Production Capabilities and Value Added Services
High Performance Alloys (HPA) is proud that our capabilities continually expand to offer you the best high-performing alloys. HPA offers hot work, heat treatments, cold work, machining, and other value added services. Time is critical in most alloy applications, especially in a shut-down. We can usually offer a quick option that will help get your operations back on track.
Production Note!
We can cold work high strength into your material to meet your high-performing requirements. We also facilitate in-house size conversions, rotary forging and drawing, and annealing materials, as well as our cold finish machining capabilities range of +/- 0.0002" Ø.
For more information,
you can contact us at 1-800-945-8230,
and request our GFM Bulletin;
you can also view our brochure online!
There's also more information about our offered services on our
production capabilities page
.
We have expanded our abilities to work smaller diameter bar down to nominal wire. Also, check out our weld wire to finish the job right!
Forging Capabilities
High Performance Alloys (HPA) has many forging capabilities that allow for rapid delivery of high performing, quality materials. HPA is pioneering forged cold work in the modern alloy industry. At HPA, we have a long track record of acquiring recurring business through research and development. From our open die Lake Erie Forge Press to our GFM and Rolling Mill, HPA has many options to help you acquire the size and mechanical properties for your materials' requirements. Our latest wire draw acquisition allows us to provide high strength wire sizes. Our GFM puts cold work in the center of the bar, and by the time it processes through the wire draw, the cold work is nearly completely throughout the material resulting in a near perfect grain structure. Give us a call at 1-800-472-5569, and ask what we can make for you!
HPA's forging machines:
Lake Erie Forge Press
Lewis
Hallden
GFM
Rolling Mill
Cutting Options
High Performance Alloys (HPA) has a wide assortment of cutting options to meet many of your requirements. From super tight tolerances down to a couple hairs width, a couple thou range of +/-0.005", or the industry standard +0.125/-0", HPA can quote most of your cut tolerance needs. Our waterjets and cold band saw offer a wide variety of options and tolerances that will meet your needs for a non-heat affected zone. Or if you're looking for a more economical route, we also offer HD plasma, shear, or chop saw cuts as applicable. Whether your issue is kerf, tolerances, or heat affected zones, HPA has a cut option for you. For more on our standard cut tolerances, please see our guide FM-75-37, "Shop Standard Cut/Grind Tolerances." For more waterjet cutting, visit our sister company Hoosier Waterjet.
HPA's cutting machines:
Waterjets
Cold Bandsaw
Shear
Plasma
Saws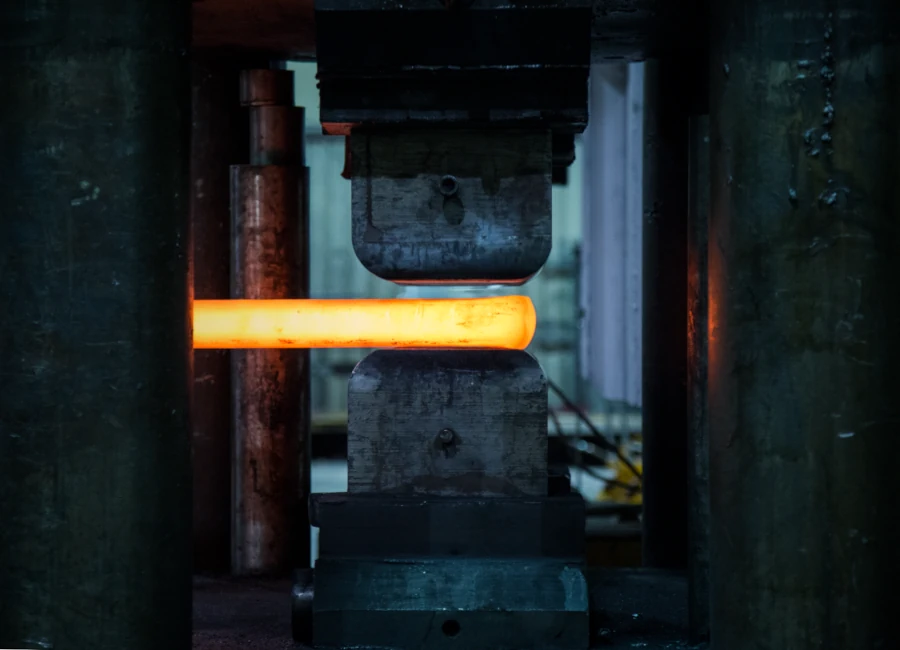 Value Added Services and Shipping
HPA offers a wide variety of value added services for our varying material forms from coil, sheet, plate, hex, and flat bar to wire, round bar, weld rod including MIG and TIG, and many forgings of different shapes. HPA can also quote your bar boring needs, cold working for elevated mechanicals, and conversion services to reduce or enlarge diameters to your required size. We also have heat treatment options up to 2300 degree Fahrenheit (~1260 deg. Celsius) in-house. And when your material arrives to your warehouse, we believe your receiving team will be impressed with the quality and integrity of our packaged shipments including a copy of your Material Test Reports emailed to you to ensure conformity and reduce down time due to paperwork.
This is not an exhaustive list of services HPA can quote. If you are looking for an option not listed, please check with our sales team to see if we can offer you a solution. We try our best to quote every job requiring Nitronic: N60, N50, N40, and N30. Also, we often have options for many of your common nickel alloy needs: 200/201, 400/R405, K500, 600/601, L605 (HS 25), 625, alloy X (HX), C276, and 718.
HPA's other offered services:
Centerless Grinding
Quality Shipping and Paperwork
Weld Wire
Fasteners
Bar Boring Pipe/Tube
Heat Treatments

Please, note that we do not accept any form of Controlled Unclassified Information (CUI) or Federal Contract Information (FCI). Nor do we accept work with the common contaminating materials such as lead, mercury, or radioactive materials. For more information, please talk with a sales representative or our quality manager.